SoCal Airflow Pros is a veteran-owned and operated heating and air conditioning company located in Mission Viejo, California. This organization was founded on a simple principle: provide the service we would like provided for ourselves. SoCal Airflow Pros continues to prove that world-class customer service, workmanship, and integrity are truly the best recipes for success.
Cody Novini President, CEO
Cody was born and raised in Orange County, California. He spent five years in the United States Marine Corps, serving two deployments to the Middle East. After an honorable discharge from the military, Cody began working for a top-quality heating and air conditioning company. During full-time employment, Cody also earned his Bachelors's degree attending night school. Years later, Cody launched SoCal Airflow Pros. Cody's goal is to provide industry-leading service, repair, and replacement options for clients on any budget.

Jaime Torres General Manager
Jaime is a former Sergeant in the United States Marine Corps, having served three deployments. During his five years in the corps, he became a skilled aircraft diagnostic mechanic and valued leader. Jaime received a letter of recognition from the Commanding officer of VMFA 232 and was recognized for his commitment and dedication during his term. Jaime continued to develop his mechanical experience in the mining industry for five years. In 2016, Jaime graduated from Grand Canyon University, obtaining a Bachelor of Science in Applied Management. Jaime's mechanical abilities, leadership, and knowledge are key attributes that support his role as General Manager for SoCal Airflow Pros.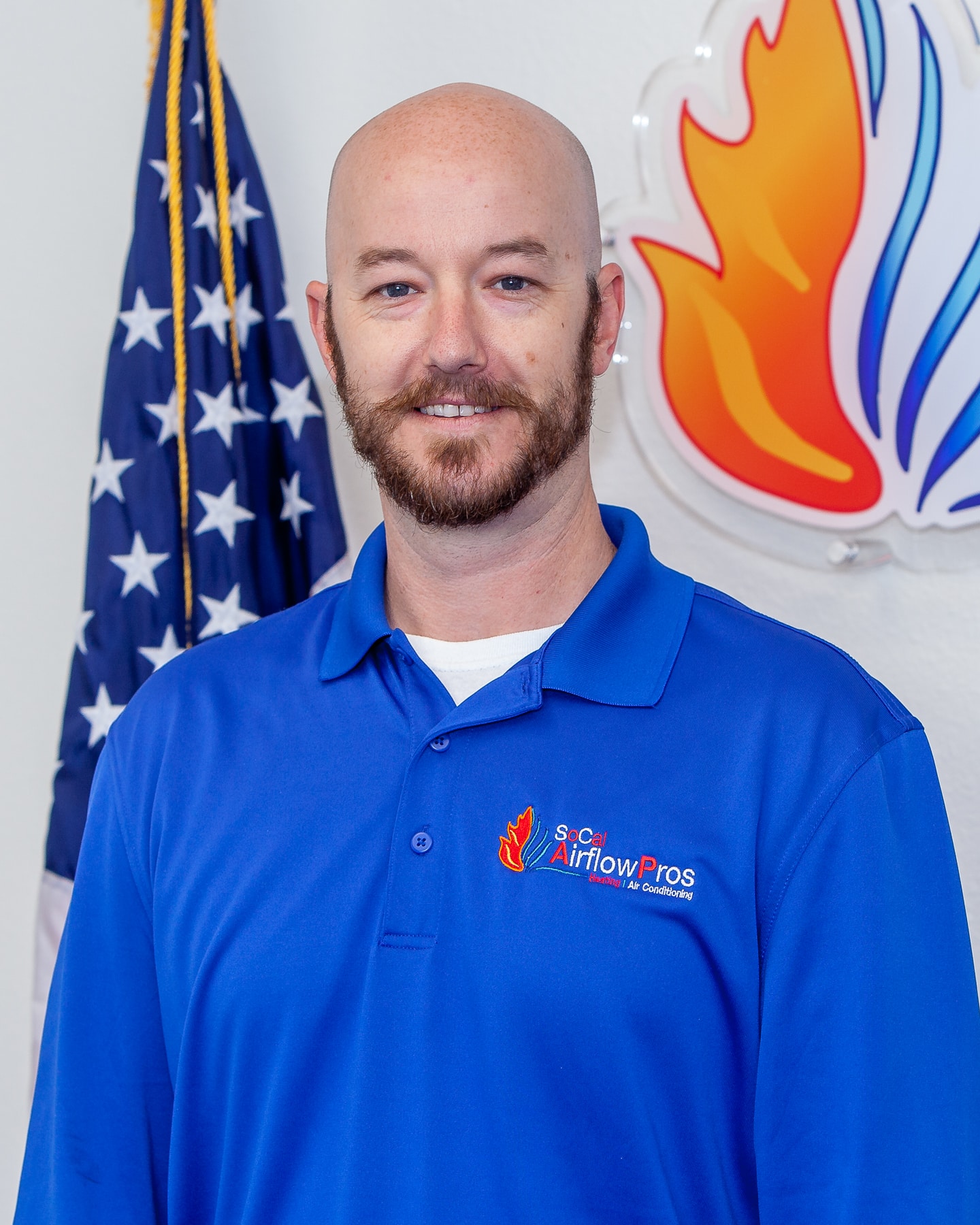 Donny Hopkins Install Liaison
In 2012, Donny was named Orange County Citizen of the Year for apprehending a serial killer in OC. Outside of serving as Orange County's own Batman, Donny spent years managing inventory, ordering supplies for projects, and ensuring efficient and timely completion of jobs within the HVAC industry. Now, Donny offers invaluable insight and management of project equipment and supplies at SoCal Airflow Pros, ensuring proper execution and efficiency on each project.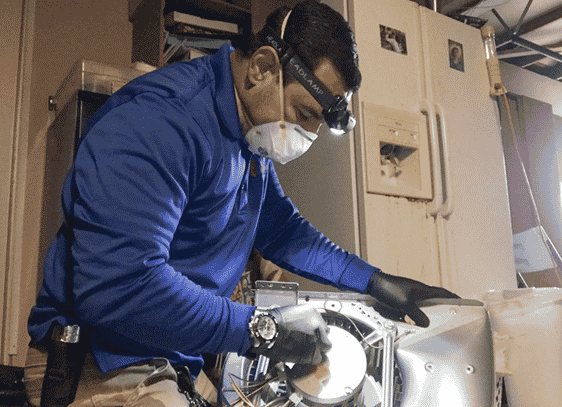 Tyler Best Service Technician
Tyler Best is a Huntington Beach native. He grew up locally and developed a career in residential and commercial construction. While developing his craft, Tyler also spends his days playing guitar, traveling, and golfing. He is an adrenaline junkie and food enthusiast. In his spare time, Tyler plans out his upcoming global trips around the world and develops plans for his next journey.
Martin Turner Service Technician
Martin Turner rejoined our team in 2019. Martin is a dedicated father and skilled HVAC Technician with over a decade of HVAC diagnostic, service, and repair experience. After 5 years away from the industry, he has returned with a passion for customer service and customer satisfaction.
Kevin Seitz Service Technician
Kevin Seitz was born and raised in Southern California. As a retired holistic health care practitioner he carried his passion to help others as a service technician with SoCal Airflow Pros. Being a husband and raising his two boys is his pride and joy. In his spare time you can find Kevin restoring classic cars and golfing.
Becky Rodieck Service Liaison
Becky was born and raised in Orange County, California. She is a single mom of two girls. Becky joined our team this year and has quickly adapted to the industry and the needs of our customers. She enjoys the river, camping, snowboarding, and doing crossfit.
Ulysses Zuniga Install Lead
Uly began his HVAC journey in 2008, with a high quality company as an install apprentice. Uly strived to surpass his colleagues and become the next best lead installer. Within a year of his apprenticeship, Uly began to run his own installs. Uly earned the lead position in another six months, putting him a couple years ahead of his peers. Over a decade later Uly was hired at SoCal Airflow Pros. Joining our team has given Uly the opportunity to do what he enjoys the most, with a team that takes pride in what they do, to highest quality possible.
Chris Navarro Install Lead
Chris has been installing HVAC systems since 2008 and is an expert in electronics. Chris's diagnostic training and attention to detail is held with high regard and is a tremendous asset to our company. On top of his expert installation knowledge, Chris also provides nearly all of the custom sheet metal work for SoCal Airflow Pros. Chris is a devoted husband to his wife Jessica, and father of four great kids. In his spare time, Chris is a custom car audio mastermind winning first place awards at shows all over the country

Robert Simental Lead Installer
Robert enjoys hiking outdoors and working out regularly. His greatest pleasure is outperforming the younger guys on the daily. Robert has been working within the HVAC industry for over 17 years, starting with construction jobs before focusing entirely on residential installations. Robert quickly graduated from apprentice to lead installer while working in the Temecula area. At SoCal Airflow Pros, Robert is the most senior lead installer and is often consulted on our most challenging projects.
Brandon Morris Installer
Brandon was introduced to the HVAC industry by his brother and coworker, Chad. While working with SoCal Airflow Pros, Brandon quickly picked up the trade and was trained by our ducting specialist, David. He now operates independently and seamlessly adopted the culture within the company. Brandon is a facial hair enthusiast and enjoys sporting retro handlebar mustaches.
Alberto Valle Installer
Alberto is a United States Army veteran who spent 8 years in the military from 2000-2008. Alberto served as part of the Army infantry and was deployed in Iraq from 2003-2004. His assignments during deployment included the raid which led to Saddam Hussein's capture. In 2014, Alberto entered the HVAC industry and has continued developing his skills in the trade ever since. His free time is spent with his family and enjoying the outdoors.

David Aldama Ducting Specialist
David was trained in framing construction with his father at a young age. In 2007, David entered the HVAC industry where he began as a metal fabricator. Soon after that, David moved on to become an equipment installer, where he quickly excelled beyond his peers. David now servers as the senior installer and consultant for duct modification in residential and commercial applications for SoCal Airflow Pros. David is a dedicated family man and is also an avid fisherman.