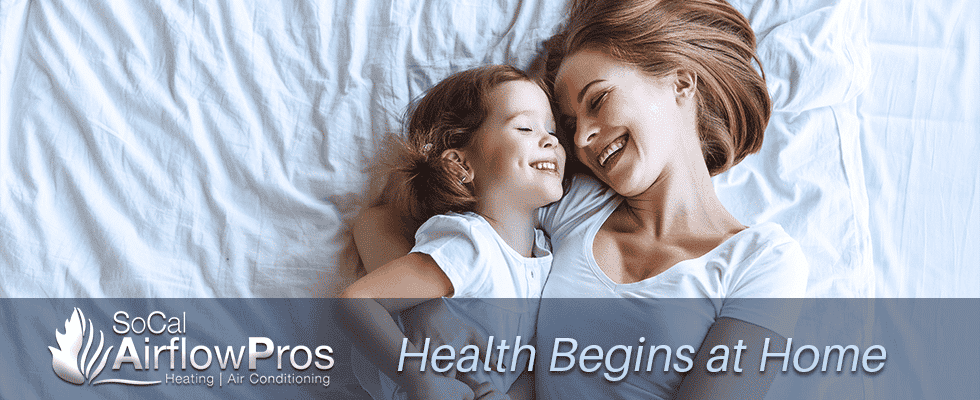 When it comes to the air you breathe, there is no second-guessing. People go to great lengths each day to protect themselves and their loved ones from breathing in excessive pollution, second-hand smoke, and detrimental airborne contaminants. Are we escaping these same pollutants within our own home?
It may come as a surprise, but we are often inhaling the very same or even more harmful contaminants every day in our own homes without ever knowing. The Environmental Protection Agency (EPA) has noted that indoor air can be substantially more harmful to the health of children, seniors, and the chronically ill when compared to outdoor air in even the most concentrated cities. The reason being? Indoor air impurities remain stagnant and recycled within a home, business, or any contained facility.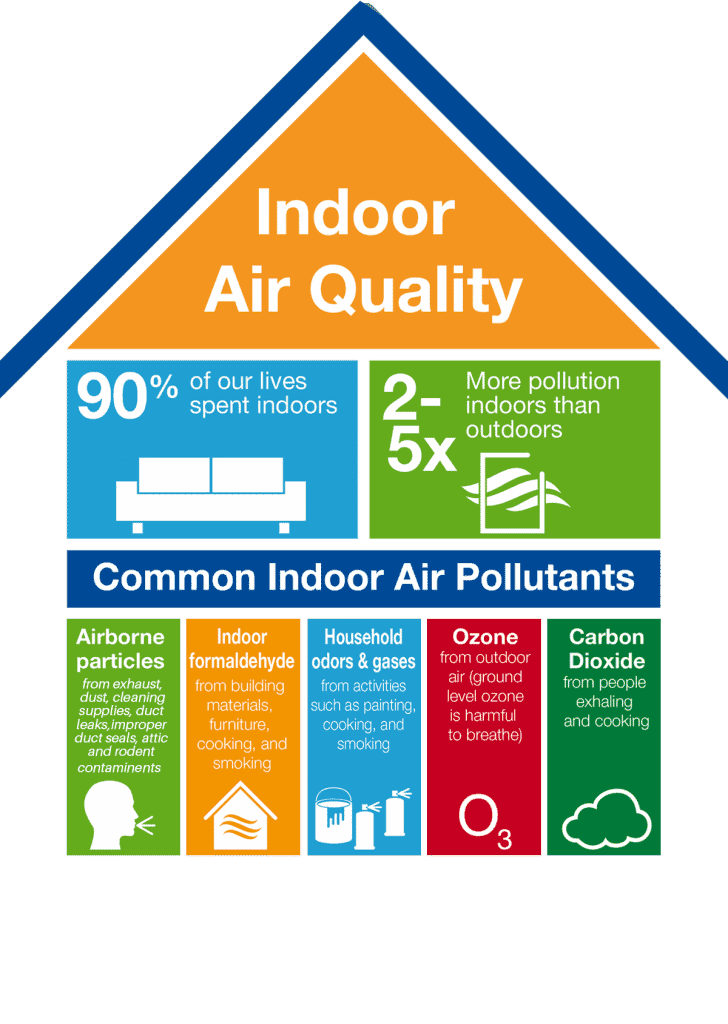 According to the EPA, the air we breathe inside our homes and offices can be up to 5 times more harmful than the air outside. This is because contained areas within the home or office enable pollutants to build up more significantly than open spaces do. The good news? Unlike secondhand smoke, radon gas, and mold, which are all airborne toxins we cannot readily control, most indoor air pollution comes from products we willingly bring into our home.
Symptoms of Indoor Pollution
Breathe Easy, We're Here to Help

Although the side effects of poor air quality are numerous and worrisome, several measures can be taken to purify the air in your home and reduce the negative side effects on your health. Below are three air quality service options that come highly recommended for any residence. For more information regarding recommended practices to maintain healthy indoor air quality, please give our offices a call.
Most standard heating and air conditioning installations come with the run-of-the-mill 1″ pleated filters. In some cases, even fiberglass filters may be installed. Within the HVAC industry, these filters have playfully been coined "B&B" filters because they are essentially only capable of filtering birds and bricks! Humorous or not, the simple fact is that most people are at risk of breathing in contaminants and harmful materials that are recycled through the home each day through the heating and ventilation system.
At SoCal Airflow Pros, we recommend all new installs include the HEPA filtration system to improve the indoor air quality of your home. Having a comfortable home goes far beyond temperature settings. The quality of air inside your house greatly affects your comfort — and health. Tiny particles like mold, bacteria, and moisture can cause serious respiratory problems, while others like pet dander, pollen, and dust can be irritating. Merv 13 filters help reduce concentrations of allergens and other contaminants in the air. These and other indoor air quality products help improve air circulation and balance humidity levels.
Indoor air is two to five times more polluted than outdoor air, according to the EPA. From allergens to viruses to mold, there's a lot to worry about in the air we breathe. Phenomenal Aire's air cleaning technology enhances existing HVAC filtration, reducing airborne pollutants within the HVAC system and occupied space. And it is proven to eliminate 99.9% of the COVID-19 virus.
Benefits of Phenomenal Aire for You and Your Family:
Some indoor air quality problems are a nuisance — think pesky odors. Others, such as allergens (pollen, dust, and dander), pose mild to moderate concerns. Others still — airborne viruses, and smoke — can be more serious. Whatever your air quality concerns, you can have cleaner, fresher air for you and your family. Little to no maintenance. Low operational cost. No expensive replacement parts. Convenient installation. Better air quality. No detectable ozone or other harmful by-products. Don't wait another second to get mountain-fresh, ion-rich air in your home.
Although they are not always the first thing we think about when considering our indoor air quality, your property's ducting is a major contributor to the quality of the air you breathe in every day. Improper installation and unsealed connections, tears, and leaks can all expose your home to harmful contaminants within your attic. Asbestos, fiberglass, rodent droppings, pet dander, and numerous other health hazards easily enter our recycled air system when ductwork offers points of entry. In turn, this directly affects the health of residents in your home and can lead to health and respiratory problems.
Duct Cleaning: Don't Be Fooled - Do it Right the First Time
We've all seen it – "Only $50 for Duct Cleaning Special!" Sounds great! But what these ads do not want you to know is that duct cleaning is a pretend service. Here on the west coast HVAC systems utilize flex ducting, seen below, or asbestos ducts, neither of which should be cleaned. In the rare cases that we find a duct system that is dusty or moldy, a duct cleaning would only be a temporary band-aide. Mold is often a problem with the AC function. Dust in ductwork is often caused by leakage in the duct system and/or poor filtration. Our flex ducting in California is easily damaged and torn when duct cleaning companies "perform" their service. When this happens, your air may be exposed to harmful contaminants, and at the same time causing repairs that will cost far more than your $50 cleaning job. Do not be fooled – ask that one of our experts evaluate your duct system today.
Rather than allow a client to throw money away on a band-aide solution, we offer duct replacement. Duct replacement provides our clients with the ability to guarantee their own health and safety, as well as provide homeowners with a long term solution. Our work is backed with a 30-year transferable limited warranty on every duct replacement project.
To schedule a proposal or gather more information regarding the benefits of duct replacement, air quality, proper filtration or recommended practices – give us a call today!
(949)-303-5525