SoCal Residential
Pro-Club

Membership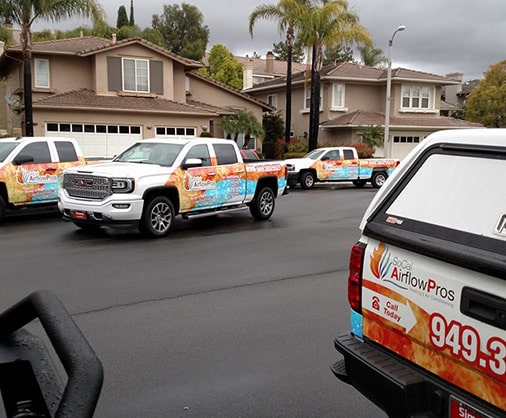 SoCal Airflow Pros is dedicated to the long term health of  your air conditioning and heating system. That is why we  offer a comprehensive annual service plan for only $17.97 a month per HVAC system.

The Pro-Club Membership ensures your system receives the proper maintenance it needs, helps to keep your system running properly, and reduces the chance of a peak season breakdown. Less than 5% of our Pro-Club members need repairs during peak season weather. Regular maintenance reduces utility costs for system operation, and our safety inspections recommended by the American Gas Association will make sure that your system is not leaking harmful or deadly gases into your home.
Check out the Great Benefits below,
and contact our office for more information.
For most people, another recurring monthly charge is just something we don't want. Believe us, we understand. That is why each monthly installment that is invested into the protection of our members' current system and will be tallied up and applied to the cost of a new system installation when the time comes. This benefit indirectly makes the Pro-Club membership free. Peace of mind – from beginning to end. Full system replacement qualifies for 100% ProClub bank, and partials qualify for 50%.
After the peak of summer and before the cold of winter arrives, the Fall season is the absolute best time to maintain your furnace health. During the fall months, we will visit your property to thoroughly clean your furnace unit, lubricate necessary motors, tighten the electrical, perform safety inspections, and replace standard system filters. This is recommended by SoCal Gas Co., SDG&E, and Edison, and is the best way to ensure your equipment operates smoothly all winter long.
Air conditioning tune-up services are ideally performed during the Springtime. This season allows for us to complete the preventative services your condensing unit needs to help avoid costly repairs and reduce utility bills in the heat of the Southern California Summer. From disassembling and flushing the unit and detailing each component to testing the health of each part carefully, annual AC service is vital to the health of your central heating and cooling system. AC systems have wear and tear from normal operation, and the inconvenience of a system failure during peak season usage is not a good experience for any homeowner. Our goal with preventative maintenance is to reduce wear and tear to catch potential problems before they arise.
In a demanding climate such as Southern California, which leads to higher than usual system utilization year-round, it is important to take every step necessary to protect your investment in central heating and air conditioning. Don't wait, take the right steps today to ensure you avoid costly heating and cooling repairs all year long!
Note: The benefits and first free service do not apply until you have been a Pro-Club member for six months.
​
Apply for Pro-Club Membership Today!
Membership subject to approval
Priority Booking, Repair Discounts, Complimentary Services, and More