How to get FREE tune-ups with Thumbs Up for SoCal
Pre-season tune-ups are the single best thing you can do to improve your systems performance, efficiency, and longevity. It seems to be a task easy to neglect, but this simple service could make the difference to everything between clean indoor air quality and lower utility bills. We decided to make this bi-yearly chore even more simple and effective, and are offering it for free to recent SoCal Air conditioner install customers… for one simple condition. For every bi-yearly tune-up, take a picture of yourself giving your new A/C a thumbs up, and its yours at no cost.
Anytime during the year you like, you can post a picture of yourself giving a thumbs up to your new A/C. Get creative, and have fun with it!
Tag SoCal's Facebook (@SoCalAirFlowPros), or Instagram (@socalairflowpros), or submit the Form Below with the link to the post to claim your Tune-up. Then, reach out to let us know when you would like to schedule.
Pretty easy? We think so too.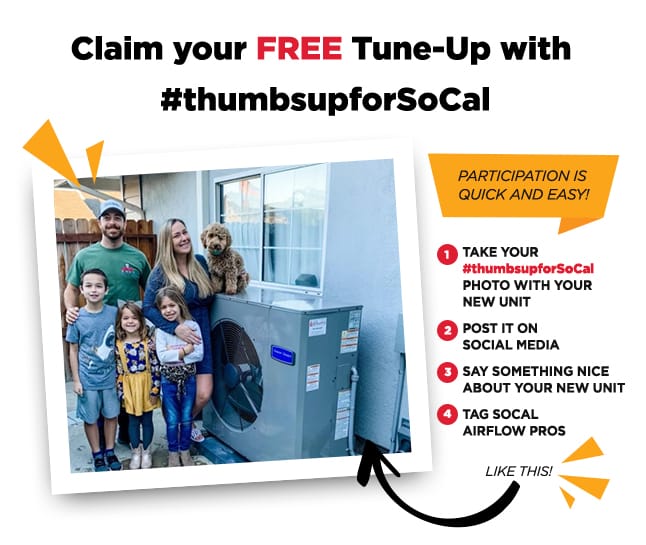 Benefits of a pre-season tune-up:
Prolong system life
Cleaner air in your home
Prevent system failure
Lower utility bills